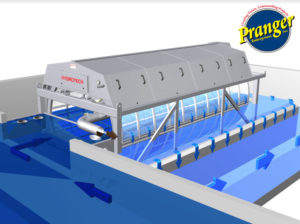 Many aquaculture facilities use RAS, or Recirculating Aquaculture Systems, to recondition and reuse the water where the fish are grown. The water is filtered and then returned to the tanks, dramatically reducing the amount of water used on the farm and creating a healthy, clean environment for the fish.
The Hydrotech Drumfilter is a self-cleaning mechanical filter specially designed for high performance in systems where it is essential to prevent particle fragmentation. The Drumfilter uses uniquely designed filter panels that carefully handle solids, such as feed particles and fish waste. Our Drumfilters are specially designed for the high standards of filtration essential to industries such as aquaculture.
Drumfilters are a crucial part of the RAS process. Water is filtered through the periphery of the drum and particles are carefully separated from the liquid onto the special cell structure of the panels. As solids build up on the filter cloth, the automatic system begins rotating the drum and initiates the backwash. Solids are gently rinsed off the cloth and collected in the waste trough and discharged. The unique design of our panels prevent fragmentation through careful handling of the solids. This high filtration efficiency is essential in optimizing water quality parameters.
A More Efficient Way to Pure Water
Hydrotech Drumfilters work without pressure and are robustly designed with few moving parts to ensure long life and low maintenance costs. The Drumfilter can be automatically controlled by Hydrotech's Intelligent Filtration TM control system to ensure economic use of power and water.
Modular Construction
Hydrotech's patented filter panels simplify both the replacement and the change out of the filter opening size. The drum is constructed in sections, each with up to five panels depending on the diameter. This simplifies maintenance and makes it easy to adapt to the specific flow capacity and filtration performance requirements. The drum and tank are made of stainless steel or acid-proof steel. Drumfilters can be customized by choosing from special alloys such as GRP (glass fiber reinforced plastic) or duplex steel for use in extremely corrosive surroundings. Bearing wheels, main shaft bearings and filter panels are made from resistant plastics. The filter cloth is made of polyester or stainless steel.
Contact Pranger Enterprises for a quote or more information about Hydrotech Drumfilters. Pranger Enterprises is the sole distributor of Hydrotech's Drumfilters, Discfilters, and Beltfilters for Aquaculture in the United States.